Community Information Center

FORA's Community Information Center (CIC) is open to the public, located in its offices at 920 2nd Avenue, Marina.  The CIC is an interactive resource facility for public use that provides information to the public about FORA and the educational, environmental, and economic purposes of reuse of the former Fort Ord.
The CIC combines a variety of interactive options including uses of historical artifacts, touchscreen computers, and other media. These resources assist users to be engaged and informed on subjects such as the history of Fort Ord, the Base Reuse Plan and current reassessment of the plan, ordnance and explosives removal, habitat preservation, construction projects, and recreational opportunities.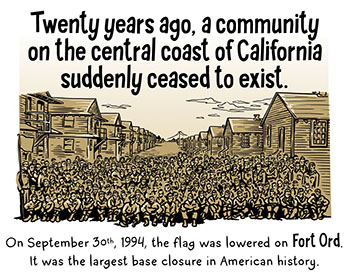 Also on display are a variety of maps, photos, posters and historical artifacts of the former Fort Ord, and numerous documents can be accessed on computers within the Center. The CIC is open Monday through Friday during regular business hours: 8am to 5pm.
Access "Impossible City: The Afterlife of an Army Base," by Andy Warner, a creative and informative illustrated presentation of the history of the former Fort Ord.