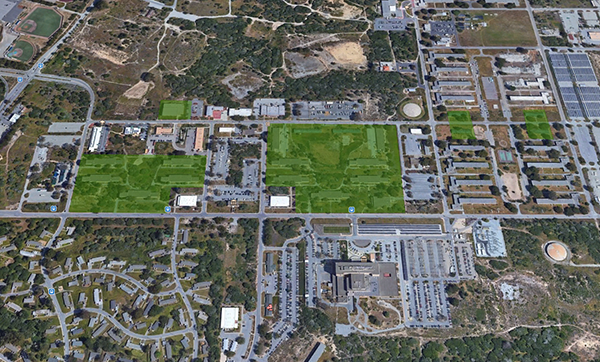 Following Construction Activities to Begin:

Weed Abatement and Fire Prevention . . . . . . . . . . . . . . . COMPLETED
Hazardous Material Remediation . . . . . . . . . . . . . . . . . . AUGUST 2018
Building Removal . . . . . . . . . . . . . . . . . . . . . . . . . . . . .OCTOBER 2018
Construction Demobilization. . . . . . . . . . . . . . . . . . . . DECEMBER 2018
Notice of Intent to Award
Notice is hereby given that the Fort Ord Reuse Authority (FORA) intends to award a contract to the following bidder: Resource Environmental, Inc. The proposed award is the result of FORA's Request for Proposals (RFP) listed below: Surplus II Hazardous Material and Building Removal: Phase 1, 2, and 3. Project No. S201-RFP3 Please direct inquiries to: Peter Said, Project Manager 920 Second Ave., Suite A Marina, CA 93933 Phone: 831-883-3672 Email: peter@fora.org


Background
The Seaside II Surplus Area was transferred directly from the U.S. Army to the City of Seaside (City) in 2005.  The City explored a series of options in an attempt to reuse and/or rehabilitate the buildings on the site for 10+ years. The City determined the buildings are un-usable because:
They contain lead, asbestos and other hazards.
They do not meet structural code requirements.
Reuse costs more than building new.
As a result, the Fort Ord Reuse Authority (FORA) is using funds from the sale of former Fort Ord property to remove buildings for public safety, and future economic development, as required in the approved Base Reuse Plan. 
What Happens after FORA clears Surplus II
The City of Seaside is seeking your help in designing the new Campus Town Specific Plan. In fact, they want your help so much that they will be having a week-long effort to develop an innovative and inspiring plan for this project!
Project Description
Seventeen (17) buildings will be removed over the next year, including all ten (10) of the three-story concrete barracks.
FORA's Construction Management team will closely monitor building removal activities to minimize impacts on businesses and residents.  This will include monitoring and controlling:
Dust
Sound levels and construction times
Environmental concerns, like birds and bats
The community can expect the following during the building removal process:
Construction hours from 7:00am to 5:00pm, Monday thru Saturday.
Access to businesses and residences.
Truck/construction traffic and road detours along Col. Durham, Malmady and 7th Ave.
Controlled construction noise / dust / vibrations
Advanced notice for temporary parking restrictions or utility disruptions during construction.
Project Documents
Project Schedule
Leave a Comment