Important Announcements & Events

7th Annual Heroes' Open
This event will be played on Saturday, October 29, 2016. SIGNUPS ARE HERE! The tournament, a fundraiser, is part of the ongoing effort by the Central Coast Veterans Cemetery Foundation and other veterans groups, businesses and the community to create a place of beauty, serenity and respect which will be available to any veteran. Your support, through sponsorship, is needed and appreciated. For more information, to reserve your sponsorship, or to explore additional options, Call (831) 601-3263 or www.UVC-MC.com
Prevailing Wage Seminar & Training
There's still time to sign up for the Prevailing Wage Seminar & Training Session on Tuesday, November 1, 2016 from 8am-4:30pm at 910 2nd Ave., Marina, CA 93933. Sign up using the online form below. For more information contact Prevailing Wage Coordinator, Sheri Damon: 831-883-3672 or sheri@fora.org or access the Agenda HERE.
PREVAILING WAGE RESOURCES
RSVP for SEMINAR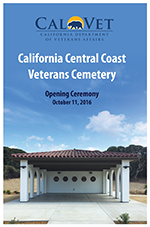 California Central Coast Veterans Cemetery is now Open!
The California Central Coast Veterans Cemetery was dedicated Tuesday in a solemn, yet celebratory, ceremony with hundreds in attendance. With the opening of the cemetery official, here is the contact information: Daria Maher (Daria.Maher@CalVet.ca.gov) 2900 Parker Flats Road, Seaside CA 93933, (831)-393-9371 or access our Veterans Cemetery webpage HERE.

STAY INFORMED: Trail Access Status for Parker Flats on Former Fort Ord
A map entitled, "Central Happy Trails" is being circulated that may mistakenly and inappropriately give members of the public the impression that portions of Parker Flats are open for biking and hiking. This is not the case. These areas remain closed to the public pending regulatory approval and release for public access (see map HERE).

FORA is diligently working to gain regulatory approval for this area. Until then, please adhere to posted signs and stay on access corridors.

FORA Board Adopts Regional Urban Design Guidelines
After two years of comprehensive planning and community participation at its June 10, 2016 meeting, the Board unanimously adopted the Regional Urban Design Guidelines (RUDG). This significant action was the culmination of a comprehensive Base Reuse Plan (BRP) policy development process led by the Board-appointed RUDG Task Force and FORA staff, with the support from a nationally recognized inter-disciplinary consulting team.

DesignFortOrd.org